Why We're
Different?
Kaizen Law is a forward thinking law firm specialising within the Credit Hire, Civil/Commercial and Personal Injury sector. Our team of trained professionals work tirelessly to see that you are given the legal services that you deserve, so you can relax knowing that your case is in the best hands possible.
We have adapted our services to suit our clients' needs with innovative technological tools such phone app facilities. We apply our expertise to all areas of the firm, which translates to efficiencies for each of our clients.
We distinguish ourselves from other standard Solicitors by providing a service that is second to none. We work against the traditional norms by providing services based on fast time frames and quality service. Using only the newest innovative technology and boasting modern luxury conference facilities the service we provide is really a step above the rest. With our prime town centre location, we will never be too far from our clients needs.
Whatever life throws at you; we are never far away to help. We understand our client's needs and work side-by-side with them to get the best outcome possible. It also means we can tailor our legal costs and services to lots of different circumstances, ensuring everyone gets the representation and result they deserve for their individual circumstances. We understand our clients' needs, investing in online innovations that provides legal services and advice anywhere at any time.
"Our ethos is to deliver legal services that work with you, for you."
The
Process
They say if it's not broken, don't fix it, but what's wrong with improving it?
The way that Credit Hire and Personal Injury claims have been handled has remained unchanged for many years. Not without a problem, this process can be a lengthy one. This practice can easily fall victim to error which results in extending the time period of the claim even further. And the sad thing is that most law firms continue to use this method through fear of the unknown.
But Kaizen Law decided to go against convention with their new innovative approach to case management.
Previously a single file handler would have been relied on to see a case through from start to finish. Which through human error or any other delays, can turn it into a lengthy process. But here at Kaizen Law we have come up with a with a new innovative strategy aimed at reducing delays in the industry and making the whole process stress free and as time efficient as possible.
We run things differently in the way that we split up each case into different segments that can be handled separately. We have dedicated departments committed to settling cases and nothing else. This will reduce the delay and improve quality of the work done.
We promise that each case will be set up within 4 hours and given its initial review within 5 hours. Making it one of the fastest claims processes on the market.
If you want to know more about the process, take a look at our graphic which explains it further.

Case Set-Up Team
A dedicated team of professionals will set up your case file within 4 hours and complete an initial assessment within 5 hours. They will send all the necessary paperwork on the same day and instruct an agent to get all the paperwork signed.
Engineers Team
The case will then be sent to specialist Engineers Team who will instruct an Engineer on the same day, who will assess your vehicle and prepare a Report. The Engineers Team will discuss your report with you upon receipt of the same and send you a copy. Upon successful assessment of the report and the client's approval the report will be disclosed to the Third Party Insurers.
Medical Team
A Medical instruction is sent on the same day and an appointment will be confirmed in 4 days. After the appointment a Medical Report will be sent within 7 days. This will then be reviewed by an expert handler on the Medical Team who will assess and value your injuries. Upon successful assessment of the report and the client's approval the report will be disclosed to the Third Party Insurers.
Settlement
Your dedicated case handler will attempt to settle the case within 4 months of the claim being set up. If the defendant and or their insurers do not admit liability, the case will be transferred to the Litigation Department in order for Court Proceedings to be commenced.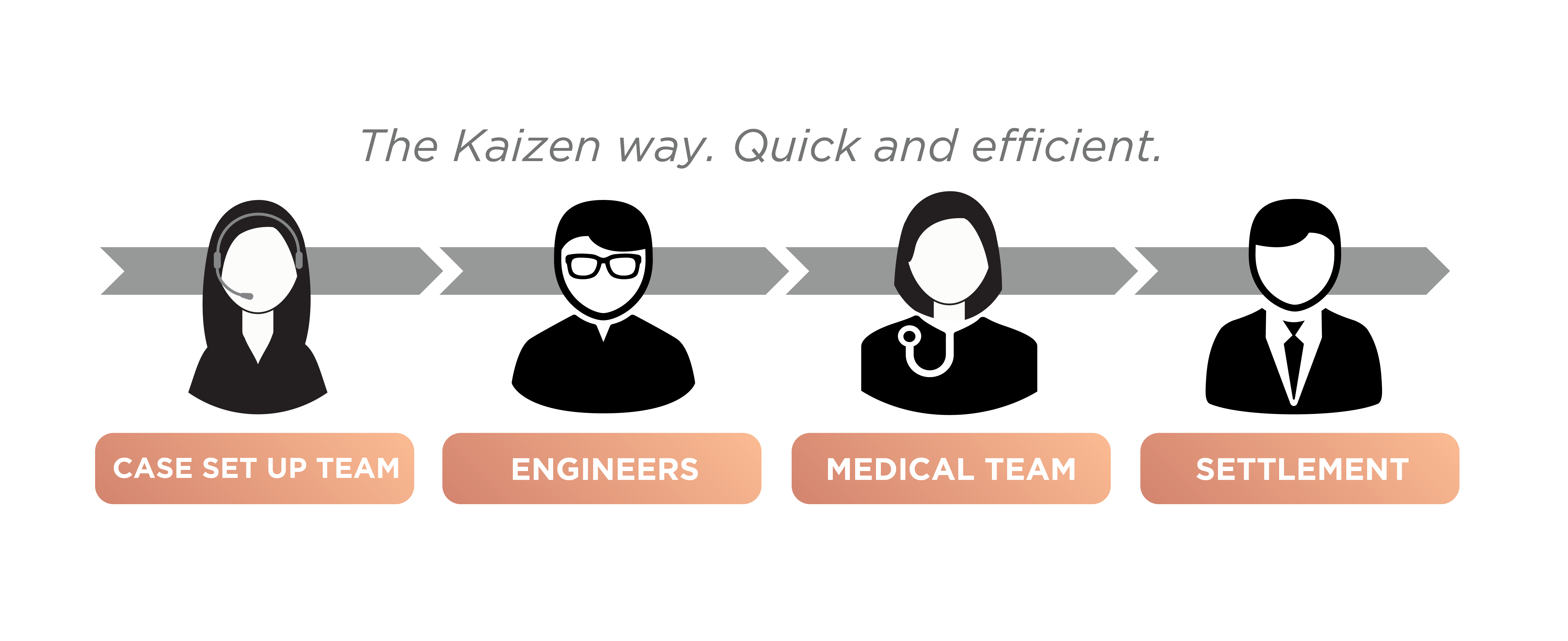 Start Your Claim
Today
Complete the form and an adviser will get back to you to discuss your situation